By His Side
Life and Love after Stroke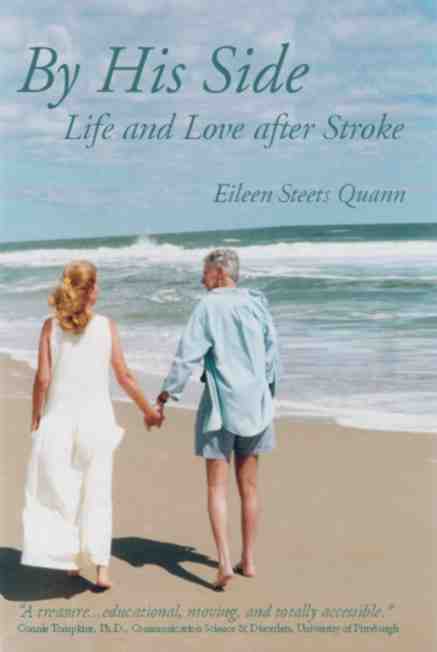 It is April 1997. John Quann, 59 years old and in excellent health, suffers a catastrophic stroke. Following an emergency craniotomy, he remains paralyzed on his right side, unable to understand or communicate.
By His Side: Life and Love after Stroke is a courageous story of determination, hope, patience and love as he and his wife Eileen work together to recover. After coping with the initial terror of the stroke, they are faced with the challenge of living with and recovering from aphasia, a communication disorder that affects a person's ability to understand, speak, read or write.
Written with honesty and humor by the spouse, this book explores the difficult decisions that must be made and the wide range of emotions experienced by the spouse-caregiver. While offering hope, encouragement and practical advice, ultimately this is a love story about a husband and wife who fall in love after the stroke. As both parties grow and change together, they discover that who they have become is far more important than what happened to them.
Read what the reviewers have said:
"A treasure...educational, moving, and totally accessible." Connie Tompkins, Ph.D., Communication Science & Disorders, University of Pittsburgh
"This story is an affirmation of life, a testament to human resilience, the power of love, and the vitality of the human spirit. It is a powerful and inspiring story of a couple who become closer in a renewed love and the shared discovery that life is full of meaning and miracles. This book is excellent." Martha Taylor Sarno, Professor, Rehabilitation Medicine, New York University School of Medicine; Director, Speech-Language Pathology Department, Rusk Institute of Rehabilitation Medicine
"moving, inspirational and very human account of the effects of stroke ...reveals the emotions of both the patient and loved ones in coping with crisis." Louise Zingeser, Director, Health Care Services, American Speech and Hearing Association
"a deeply moving family triumph! It portrays the evolving bond of love and devotion that truly reaches the heart - wedding vows transformed into reality." John Noonan, J.D.N., M.D., F.A.C.S.
"fasted-paced, comprehensive, filled with insights. It offers hope to anyone dealing with a sudden permanent life change." Charlotte Mitchum, Research Speech Pathologist, University of Maryland School of Medicine
"thoughtful insight into the confusion, struggle and triumphs of the aphasic person and communication partner." A.E. Hillis, M.D., Department of Neurology, Johns Hopkins Hospital
"a wonderful and inspirational book about living successfully with aphasia. Not only will families who experience communications problems after stroke learn much, so will researchers and clinicians who work with aphasic people. I recommend it to all of my students." Audrey Holland, Ph.D., University of Arizona
ISBN: 0-9716864-0-8 LCCN: 2002100606 Size 6" X 8.8" 151 pages Trade Paperback © February 2002 $15.95 US